70% of employers are highly receptive to UK degrees.1
Diverse study body representing half of the world's countries
Top 100 World University Ranking2
Benefit from an outstanding education from one of the world's top universities
A trusted university established over 100 years ago, the University of Birmingham is a pioneer in education with some of the most impressive rankings in education and a wide variety of engaging online degree and microcredential offerings. With Universitas 21 and Russell Group memberships and our standing as one of the largest providers of distance learning in the UK, we offer you a prestigious online education that matches the on-campus experience, instructed by the same seasoned professors and lecturers. Take part in one of the most diverse international communities you'll find – with students logging on from over 50% of the world's countries across all online programmes. Gain global insights, develop big picture thinking and emerge with an impressive credential for success in the workplace. Employers are keen to hire our graduates, trusting in their preparedness, advanced postgraduate knowledge and the fact that we have 8 Nobel Laureates and 2 prime ministers among our alumni.3
The University of Birmingham has the strength and variety of programmes to suit your individual needs and interests, backed by the academic expertise and influence, support and facilities of a top 100 public research and teaching university. You'll benefit from both academic and personal development to achieve success and ensure your degree is an asset in your future prospects.
1st AMBA-accredited online MBA and MSc business degrees
Leading global university with alumni spanning 178 countries
Nearly 80% of US employers and 70% of Canadian employers are highly receptive to UK degrees.3
Outstanding flexible programmes, latest technologies and the support you need
At the University of Birmingham, we've crafted the online learning experience from the ground up to create something unique, immersive and interactive. You'll benefit from leading industry guest speakers, case study assignments, discussion forums, simulations, group work activity and live video lectures. All of our online degree offerings – from business and law to instructional design and public administration – use the latest digital techniques, with programme content delivered through Canvas, the University's online learning platform. We also offer 24/7 technical support. Discover which postgraduate degree is for you to take the next step in building the proper skill set to meet your career aspirations.
Your pathway to career advancement starts today
Producing forward-thinking, lifelong learners for over a century, the University of Birmingham offers exceptional programmes for working professionals. Combining flexibility with academic rigour, our degree offerings prepare you to transform the world by solving problems locally, nationally and globally. Harness the power of a prestigious degree from a trusted, leading UK institution; top employers are known to seek University of Birmingham graduates who stand out with cross-cultural skills and global insight.
Request Info
A leader in distance learning
Enjoy the convenient online format offered by a world top-100 university and the 4th best university for Online Learning in the UK Uswitch 2022. You'll be led by the same leading lecturers and faculty experts who instruct on campus. They'll guide you through flexible online modules, immersive activities and lively discussions. Learn wherever, whenever it's convenient, and graduate poised to step into your desired role with new knowledge and skills. We'll even support you in your job search with our Careers Network, linking you to global opportunities to launch or elevate your career.
An online curriculum designed for you
"Being an online student, I can confidently say that choosing the University of Birmingham for my studies has been one of the best decisions I have made. The University's world-class reputation and rigorous curriculum have challenged and expanded my knowledge, preparing me to take on real-world business challenges with confidence."

– Alexander Oketch, Online MBA Student, Kenya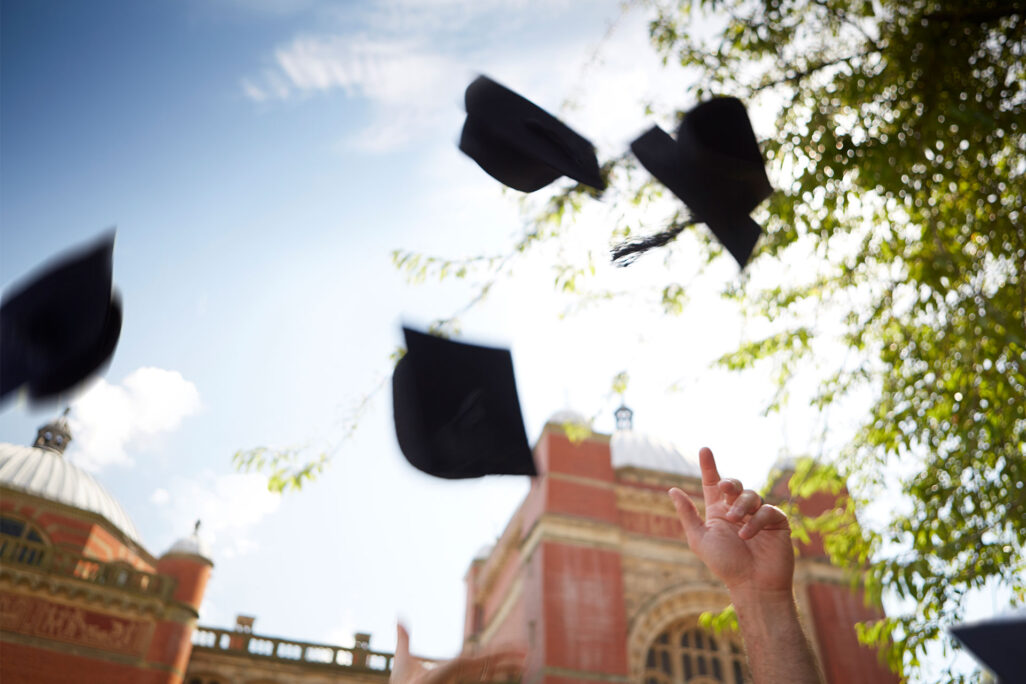 How a masters pays off
A wide array of careers and fields await the masters-prepared professional. No matter where you are in your career or where you sit geographically, a masters degree pays off with three-fold benefits: to learn more, earn more and secure your future role. Plus UK degrees stand out to U.S. and Canadian employers.1
References
"A Competitive Edge: Value of an International Degree." Britishcouncil.org. Retrieved on June 17, 2021 from http://www.britishcouncil.org.
"QS World University Rankings 2023." QS Quacquarelli Symonds Limited. Retrieved on July 20, 2022 from https://www.topuniversities.com.
"10 reasons to study at university of Birmingham." UKUNI. Retrieved on June 24, 2021 from https://www.ukuni.net.