Online postgraduate degrees
Advance with world-class learning at a top-100, leading university
Transform your tomorrow
Complete the form below for detailed programme and pricing information and to be contacted by phone and email.
70%of employers are highly receptive to UK degrees.1
Diversestudy body representing half of the world's countries
Top 100World University Ranking2
Benefit from an outstanding education from one of the world's top universities
A trusted university established over 100 years ago, the University of Birmingham is a pioneer in education with some of the most impressive rankings in education and a wide variety of engaging online degree and microcredential offerings. With Universitas 21 and Russell Group memberships and our standing as one of the largest providers of distance learning in the UK, we offer you a prestigious online education that matches the on-campus experience, instructed by the same seasoned professors and lecturers. Take part in one of the most diverse international communities you'll find – with students logging on from over 50% of the world's countries across all online programmes. Gain global insights, develop big picture thinking and emerge with an impressive credential for success in the workplace. Employers are keen to hire our graduates, trusting in their preparedness, advanced postgraduate knowledge and the fact that we have 8 Nobel Laureates and 2 prime ministers among our alumni.3
The University of Birmingham has the strength and variety of programmes to suit your individual needs and interests, backed by the academic expertise and influence, support and facilities of a top 100 public research and teaching university. You'll benefit from both academic and personal development to achieve success and ensure your degree is an asset in your future prospects.
1st AMBA-accredited online MBA and MSc business degrees
Leading global university with alumni spanning 178 countries
Nearly 80% of US employers and 70% of Canadian employers are highly receptive to UK degrees.3
Outstanding flexible programmes, latest technologies and the support you need
At the University of Birmingham, we've crafted the online learning experience from the ground up to create something unique, immersive and interactive. You'll benefit from leading industry guest speakers, case study assignments, discussion forums, simulations, group work activity and live video lectures. All of our online degree offerings – from business and law to instructional design and public administration – use the latest digital techniques, with programme content delivered through Canvas, the University's online learning platform. We also offer 24/7 technical support. Discover which postgraduate degree is for you to take the next step in building the proper skill set to meet your career aspirations.
2.5 years; 100% online
Balance your studies and learn at a place and pace which suits you. With 100% of the programme taken in our world-class online learning environment, this MBA offers you the ultimate flexibility. Apply your learning in real-time as you complete your degree that allows for a rich exchange of ideas and perspectives, with a global network
2.5 years; 100% online
This specialist programme covers the fundamentals of business leadership with an additional focus on health services management, making it suitable for clinical or non-clinical staff looking to progress to senior healthcare management roles, as well as industry professionals keen to develop business expertise.
2.5 years; 100% online
Enjoy eight-week modules that will expect to develop a strong foundation in programming, communication, and modeling skills. Our online MSc in Bioinformatics will help you understand, analyze and interpret biological complex data sets and how to use them in cutting-edge health and life science research.
2.5 years; 100% online
Start with the basics of business to become a manager with an AMBA-accredited programme that helps you understand issues, master challenges, and enter the international business workplace, with an understanding of factors that influence business operations, such as economic, political, social, and technological factors.
2.5 years; 100% online
By introducing you to the latest pioneering public service practices, strategies and global perspectives, our 100% Online Masters of Public Administration (MPA) will prepare you for today's public sector challenges, equipping you with the tools to effect positive change, wherever you are in the world.
2.5 years; 100% online
This 100% Online LLM (master of laws) provides the legal framework to respond to the world's energy issues, while considering the impact of climate change. Build your competencies through interactive discussions and activities around energy regulation, oil and gas law, pollution control and more.
8-weeks; 100% online
Broaden your knowledge in public service with short courses from a university that's top-rated in social policy. Study the latest practices, strategies and global perspectives to prepare yourself for the changing demands of 21st-century public service with a short postgraduate microcredential course in public administration.
8-weeks; 100% online
Exploring instructional and learning design from the perspectives of education, technology, digital development, data science and the social sciences, our online short courses will equip you with the skills you need to advance your career in the ever-expanding online digital learning and education sector.
1 year; 100% online
By bringing together the latest thinking in computing and education, this programme will help you design better learning experiences and seize upon new career opportunities across multiple sectors. Adopt diverse skills in design, technology, social science, data science and more to excel as a learning environment innovator.
Your pathway to career advancement starts today
Producing forward-thinking, lifelong learners for over a century, the University of Birmingham offers exceptional programmes for working professionals. Combining flexibility with academic rigour, our degree offerings prepare you to transform the world by solving problems locally, nationally and globally. Harness the power of a prestigious degree from a trusted, leading UK institution; top employers are known to seek University of Birmingham graduates who stand out with cross-cultural skills and global insight.
Request Info
A leader in distance learning
Enjoy a convenient online format offered by a world top-100 university and leader in online learning. The University of Birmingham offers interactive seminars and videos, peer interaction across oceans and continents, and collaborative group work. You'll be led by the same leading lecturers and faculty experts who instruct on campus. They'll guide you through flexible online modules, immersive activities and lively discussions. Learn wherever, whenever it's convenient, and graduate poised to step into your desired role with new knowledge and skills. We'll even support you in your job search with our Careers Network, linking you to global opportunities to launch or elevate your career.
An online curriculum designed for you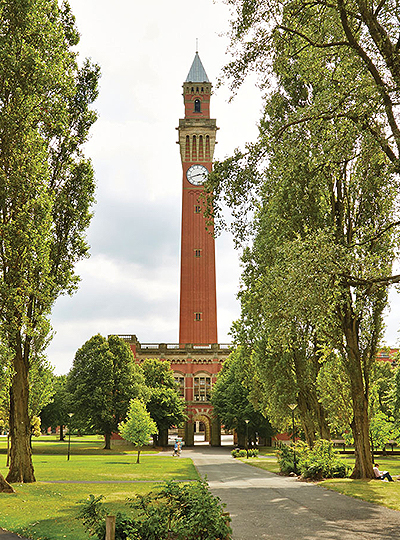 How a masters pays off
A wide array of careers and fields await the masters-prepared professional. No matter where you are in your career or where you sit geographically, a masters degree pays off with three-fold benefits: to learn more, earn more and secure your future role. Plus UK degrees stand out to U.S. and Canadian employers.1
"I wanted to be able to identify and exploit opportunities which would benefit both my employer and my endeavor to establish my own business. I needed a quality degree that would fit in well with my family commitments and responsibilities as well as my hectic work schedule. Studying online from a university as prestigious as the University of Birmingham will open doors and introduce me to new professional networks, thus helping me realize both my career and personal goals."

Munyaradzi Chikwanda, online student from South Africa
References
"A Competitive Edge: Value of an International Degree." Britishcouncil.org. Retrieved on June 17, 2021 from http://www.britishcouncil.org.
"QS World University Rankings 2023." QS Quacquarelli Symonds Limited. Retrieved on July 20, 2022 from https://www.topuniversities.com.
"10 reasons to study at university of Birmingham." UKUNI. Retrieved on June 24, 2021 from https://www.ukuni.net.