Online MSc International Management
1st AMBA-accredited online MSc
3rd in UK for graduate recruitment1
Transform your tomorrow
Complete the form below for detailed programme and pricing information and to be contacted by phone and email.
Early Bird Discount
We are excited to be offering a 10% early bird discount from the first module for the March 2024 intake to those who have accepted an unconditional offer and are registered on the programme by 19th January 2024.
Looking to learn whether you meet our entry criteria?
Email your degree certificate (or equivalent) to us. A member of the online admissions team will provide feedback within 48 hours.
Email Degree Certificate
Develop a diverse set of global viewpoints as a business leader
Advance with world-class learning at a top-100, leading university
Resolve unique business challenges as an expert in international business principles with the University of Birmingham's Online MSc in International Management. This essential advanced degree is for you, the aspiring business manager who wants to blur borders and forge international connections to build new, exciting opportunities. At the University, we understand international relationships. After all, we boast a global student body representing more than 60+ countries to help you build an impressive global network. And as far as the online experience goes, we're pioneers with the first 100% online MSc to receive AMBA accreditation. We're also one of the largest distance learning institutions, ready to build your knowledge so you can excel in the global business environment.
The University of Birmingham has the strength and variety of programmes to suit your individual needs and interests, backed by the academic expertise and influence, support and facilities of a top 100 public research and teaching university. You'll benefit from both academic and personal development to achieve success and ensure your degree is an asset in your future prospects.
"The Online MSc International Management is helping me to earn the theoretical and practical experience I need to succeed at the start of my career. While it could have easily taken me three years to pursue traditional studies, I feel I already have had a one-year head-start on my career. Work hard and work smart."

Roberto Lionti, Intelligent Automation Consultant, Ernst and Young
"I did an extensive amount of research before choosing where to send applications. I searched for a university with high standards, a schedule that accommodated my own, a course that was within my budget and a curriculum that would meet my expectations. I have not been disappointed."

Helene Feibert, Online MSc International Management Graduate, Denmark
Become empowered with global learnings in a flexible online format
With curriculum developed by the triple-accredited Birmingham Business School delivered in a convenient online format, you're sure to succeed and get the most out of this advanced programme. Global-focused modules impart deep knowledge in topics that range from international marketing and finance to entrepreneurship and economic policy. Targeted toward recent graduates and working professionals, this programme is designed to help you understand the core principles of international business. Through experiential learning, the programme develops your practical skills and prepares you to meet today's global business environment challenges. You can compare this curriculum to our online MBA, which requires three years of management experience, to discover which is the best fit for you.
Here's some of what you'll cover:
International marketing
Gain a general introduction to the nature of 'global' and 'glocal' marketing – and learn how this function fits within a multi-national corporation. Study how actors outside of the core marketing function have a role in, and engage in, marketing activity.
Global entrepreneurship
Demonstrating that entrepreneurship is not confined to the context of new ventures or start-ups alone, this module looks at innovation through ideas, inventions, products, services, processes and technology.
International Business
Develop knowledge of the global economic and business environment and use it to develop strategies for managing dynamic global markets and contexts. Combine theoretical knowledge with practical experience in global business management.
Research methods in international business
Review the range of research strategies available and specific methodologies, tools and techniques that can be applied within these strategies. Learn a range of analytical techniques and explore the use of big data.
To be eligible to apply for the Online MSc International Mangement, you will need to have obtained (or be predicted to obtain) an upper second-class degree or postgraduate diploma from a UK university OR an equivalent qualification from a recognised institution.
If English is not your first language, you will need to also supply an up-to-date English language certificate. We accept up-to-date Academic IELTS certificates with a score of 6.5, and no less than 6.0 in any of the elements.
Enjoy the convenient online format offered by a world top-100 university and the 4th best university for Online Learning in the UK Uswitch 2022. You'll be led by the same leading lecturers and faculty experts who instruct on campus. They'll guide you through flexible online modules, immersive activities and lively discussions. Learn wherever, whenever it's convenient, and graduate poised to step into your desired role with new knowledge and skills. We'll even support you in your job search with our Careers Network, linking you to global opportunities to launch or elevate your career.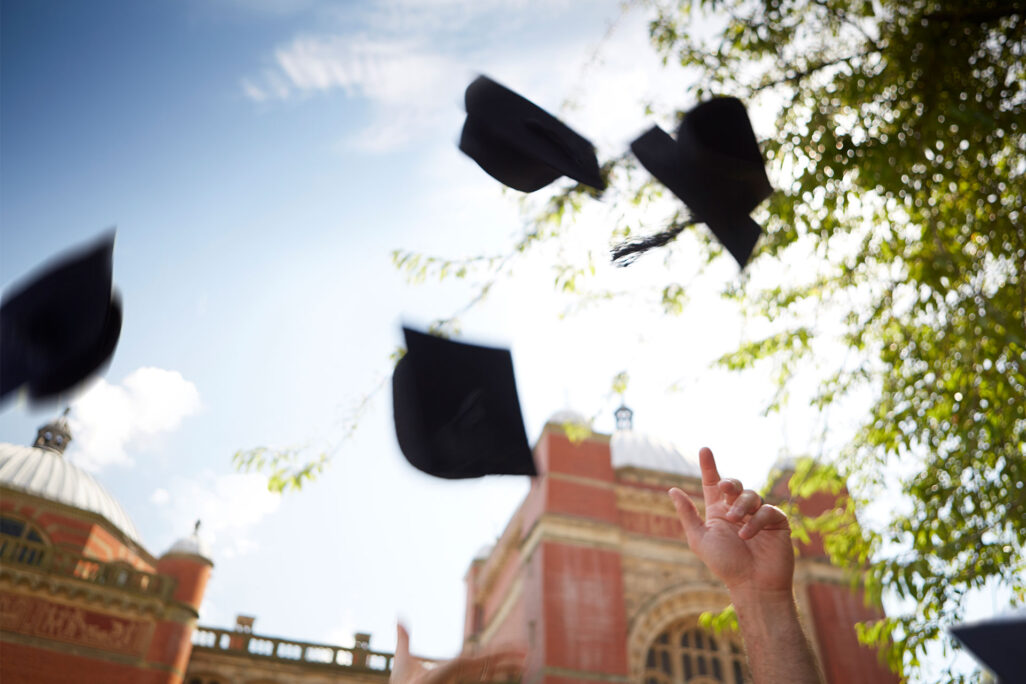 Advance in the global market with a competitive edge
The impressive credential of an MSc in International Management degree from a globally recognised university opens wide the doors of opportunity in the emerging field of international business. Enjoy a lucrative career that takes you across borders to manage and boost business, whether that means economic development, international relief, global trade, purchasing, or human resources. Endeavour to enter project management or consulting roles, work as a global communications specialist or take part in international/foreign affairs.2
Top 5 careers in international business3
Global marketing director or manager
International human resources manager
International management analyst or consultant
Global logistics manager
International financial manager
References
"The graduate market in 2023." High Fliers Research Limited. Retrieved in 2023 from https://www.highfliers.co.uk/download/2023/graduate_market/GMReport23.pdf.
"International Business Careers: Options and Job Titles." The Balance Careers, part of Dotdash. Retrieved on June 23, 2021 from https://www.thebalancecareers.com.
"5 Top Paying Careers in International Business." BestCollegesOnline.org. Retrieved on June 23, 2021 from https://www.bestcollegesonline.org.