Online MSc Bioinformatics
Transform your tomorrow
Complete the form below for detailed programme and pricing information and to be contacted by phone and email.
Innovate with bioscience data
Advance with world-class learning at a top-100, leading university
It is no surprise that the worldwide demand for bioinformaticians is on the rise. Between 2020 and 2027 the global bioinformatics market is set to increase by 13.4% (compound annual growth rate)2, as biological and clinical institutions and businesses seek to deliver more effective and efficient data-driven services. With an online degree from the University of Birmingham, you'll develop advanced knowledge and skills with convenient online, interactive content delivered in video and task-driven formats. Learn from expert faculty by studying real-life case studies that focus on data sets from health, academia and industry to emerge as a leader in a specialised and innovative field.
The University of Birmingham has the strength and variety of programmes to suit your individual needs and interests, backed by the academic expertise and influence, support and facilities of a top 100 public research and teaching university. You'll benefit from both academic and personal development to achieve success and ensure your degree is an asset in your future prospects.
Gain complex knowledge in a flexible online format
The University of Birmingham's internationally focused and expertly taught bioinformatics programme offers you the flexibility and convenience of an online format to tailor your learning. Enjoy eight-week modules that will grow your programming, communication and modelling skills. Learn from industry leaders and lecturers in the bioinformatics field to gain an understanding of where you can go and what you can do once you obtain this prestigious degree. Here's a look at some of what you'll study:
Applied genomics and next generation sequencing
Focusing on the analytical dimensions of omics data, you will understand how to apply appropriate data types and analyse high-throughput data sets using the latest state-of-the-art approaches.
Health data analytics
This module develops your hands-on experience of health and biomedical data and its analysis. Explore data quality control, techniques for evaluating performance, data visualisation and tools for dealing with missing data.
Computational biology for complex systems
Enriching your understanding of complex systems, machine learning, data integration and data analysis, this module will teach you how to apply these models to real data. This will help you to make appropriate interpretations and avoid potential pitfalls when reviewing your results.
Statistical machine learning
This module introduces concepts from statistical machine learning (ML), providing an in-depth understanding of classical supervised and unsupervised learning models, helping you applying appropriate ML tools and techniques to solve problems on given tasks and data types.
To be eligible to apply for the Online MSc Bioinformatics, you will need to have obtained (or be predicted to obtain) an upper second-class degree or postgraduate diploma from a UK university OR an equivalent qualification from a recognised institution in life sciences, biomedical sciences, mathematics, computer science or another relevant quantitative subject.
Work experience may also be accepted if your grades are lower than those listed above.
If English is not your first language, you will need to also supply an up-to-date English language certificate. We accept up-to-date Academic IELTS certificates with a score of 6.5, and no less than 6.0 in any of the elements.
AI and Data Science Conversion Masters Scholarships
We are offering 120 awards of £10,000 to upskill UK students from non-STEM and far-STEM degrees to progress into the AI and Data Science workforce. Scholarship funding will be prioritised for women, Black students, disabled students and those from lower socioeconomic backgrounds, to ensure that AI reflects the makeup of our society. You can find more information here. This scholarship is open to students with a 'home' fee status only. The final deadline for applications is 9th June 2023 for the June intake. Students must have already have an unconditional or conditional offer for a place on a University of Birmingham Data Science or AI related Masters course before applying for this scholarship. If you are interested please email us with a CV and copy of your Bachelors or Masters certificate and transcripts, and we will support you in fast-tracking an application to start the programme in June.
Contact Us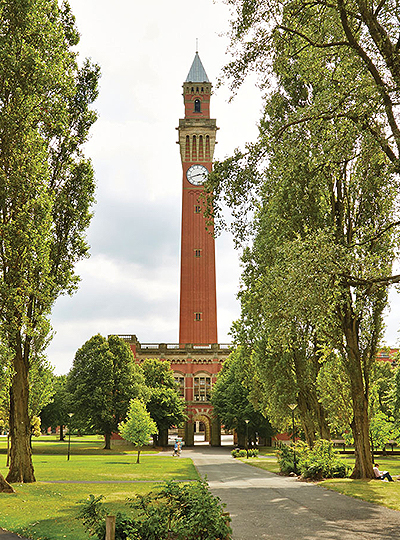 Enter an emerging, innovative field
Data is essential to most industries today, and even more important to the medical field where data-informed critical decisions are made daily. A Bioinformatics Analyst earns £39,896 per year,5 and a Bioinformatics Scientist/Technician earns £39,231 per year.6
In order to enter bioinformatics fields, you'll need to be able process large-scale raw data and have the scientific curiosity, mindset and drive to work on problems relating to biology and medicine.7 With an internationally recognised degree credential from the University of Birmingham, you'll build this knowledge to successfully transition into a variety of roles.
Top jobs in bioinformatics
Bioinformatics analyst
Bioinformatics scientist/techician
Bioinformatician
Pharmaceutical scientist
Biostatistician
Data scientist (medical)
AI architect (medical)
References
"QS World University Rankings 2023." QS Quacquarelli Symonds Limited. Retrieved on July 20, 2022 from http://www.topuniversities.com.
"Latest Reports: Bioinformatics Market." Allied Market Research. Retrieved on June 21, 2021 from https://www.alliedmarketresearch.com.
"15 Astonishing Graduate Employment Statistics for 2021." Mark in Style. Retrieved on June 18, 2021 from http://markinstyle.co.uk.
"Fastest Growing Occupations." BLS. Retrieved on June 21, 2021 from https://www.bls.gov.
"Bioinformatics Analyst." Glassdoor. Retrieved on June 29, 2021 from https://www.glassdoor.co.uk.
"Bioinformatics Technician." PayScale. Retrieved on June 29, 2021 from https://www.payscale.com.
"Bioinformatics and Data Science." Towards Data Science. Retrieved on June 21, 2021 from https://towardsdatascience.com.