Design for Learning Environments short courses
Advance with world-class learning at a top-100, leading university
Transform your tomorrow
Complete the form below for detailed programme and pricing information and to be contacted by phone and email.
Top 100 World University Ranking1
100% online with staggered start dates
Leading Distance Learning Provider
Progress with advanced EdTech skills
Help others to excel in various learning environments, particularly online formats like this exceptional offering. By studying at the University of Birmingham, a leader in distance learning, you'll be able to support students in a range of educational contexts with a focus on digital platforms and stand out with a globally recognised credential. Our outstanding short courses advance your skills as a creator of great educational tools and programmes. With the flexibility of taking one course at a time, you can pace yourself and your studying whilst balancing your full-time role and personal life.
The University of Birmingham has the strength and variety of programmes to suit your individual needs and interests, backed by the academic expertise and influence, support and facilities of a top 100 public research and teaching university. You'll benefit from both academic and personal development to achieve success and ensure your degree is an asset in your future prospects.
"The University of Birmingham applies a great 'hands-on' approach to teaching online – whether through online sessions, via email or even Skype. There are also great networking opportunities which come from studying online – the most effective I believe is through the various group projects. I have been extremely pleased with the University of Birmingham and their course offerings."

Safiya Carroll, online student from Jamaica
We'll help you learn how to help others learn
With our ranking as a top 100 public research and teaching university, we proudly offer you five 10-credit microcredentials to gain expertise for your career. Enrol in one, enrol in all. It's your choice. Gain various perspectives of learning, enrich your understanding of the learning process. You can expect interactive live lectures, guest speakers, case studies and more in this flexible, engaging programme. Consider the following featured short course offerings:
Explore the different perspectives on how we learn and how to help others learn, evaluating the behavioural, cognitive, social and networked perspectives on learning and approaches for application in your own learning environment.
Analyse learning environments from the perspective of connecting the social, physical and digital in networks of the human and non-human to challenge perspectives of online and offline learning.
Learn about the role and skills of the designer, and examine the processes and perspectives they use to develop designs and designed artefacts which can be applied in any learning environment.
Create your own digital artefacts for use in a learning environment using a piece of contemporary technology. Master your skills through hands-on learning to translate them to new learning environments.
Understand the fundamentals of data analysis using appropriate tools and frameworks to evaluate teaching and learning, and to report findings to a variety of audiences with the aim of understanding the effectiveness of learning.
Your pathway to career advancement starts today
Producing forward-thinking, lifelong learners for over a century, the University of Birmingham offers exceptional programmes for working professionals. Combining flexibility with academic rigour, our degree offerings prepare you to transform the world by solving problems locally, nationally and globally. Harness the power of a prestigious degree from a trusted, leading UK institution; top employers are known to seek University of Birmingham graduates who stand out with cross-cultural skills and global insight.
Request Info
A leader in distance learning
Enjoy the convenient online format offered by a world top-100 university and the 4th best university for Online Learning in the UK Uswitch 2022. You'll be led by the same leading lecturers and faculty experts who instruct on campus. They'll guide you through flexible online modules, immersive activities and lively discussions. Learn wherever, whenever it's convenient, and graduate poised to step into your desired role with new knowledge and skills. We'll even support you in your job search with our Careers Network, linking you to global opportunities to launch or elevate your career.
How short courses help busy professionals
Set your own pace with flexible studies that can be completed one course at a time remotely, earning a credential from one of the world's most prestigious universities. Here are just some of the reasons why short courses make perfect sense:
"The course represents the cutting edge of this industry and equips the student with the broad range of valuable skills required to play an integral part of any learning design team. The lecturers are highly qualified, experienced and extremely knowledgable, the materials are accessible and the assessment methods are valid. I cannot recommend the course highly enough."

– Tyrone Bishop, Online PGCert Design for Learning Environments Graduate, United Kingdom
To be eligible to apply for the Online PGCert Design for Learning Environments, you will need to have obtained (or be predicted to obtain) an upper second-class degree or postgraduate diploma from a UK university OR an equivalent qualification from a recognised institution.
Academic and professional qualifications or industrial experience are normally taken into account.
We welcome applicants with an appetite for learning. Since some courses combine content from multiple disciplines, you may be expected to cover coding and maths, starting at secondary schooling level and above. Speak to our Recruitment Team if you are wondering if this applies to you.
If English is not your first language, you will need to also supply an up-to-date English language certificate. We accept up-to-date Academic IELTS certificates with a score of 6.0, and no less than 5.5 in any of the elements.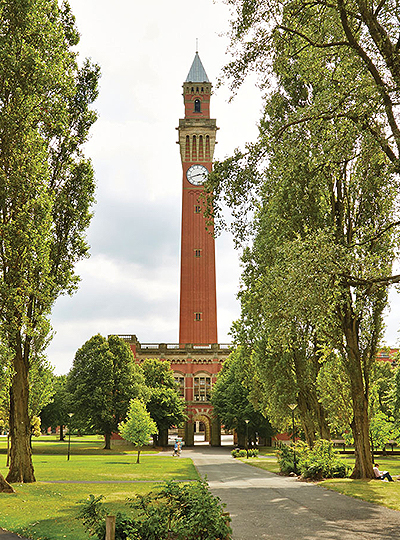 How will you help others learn?
The opportunities for online learning amidst – and after – a global pandemic are innumerous as learners have transitioned to remote educational platforms. You can drive the development of e-learning services and projects, design, curriculum and more with the skills obtained from the University of Birmingham's Design for Learning Environments short courses. A learning designer earns an average base pay of £33,275 per year.2 An e-learning leader can earn an annual salary of £45,727.3
Top 10 roles for instructional designers
Learning designer
Head of e-learning
E-learning designer
Learning technologist
Academic developer in learning technology
Digital learning officer
Learning adviser
Learning developer
Instructional designer
E-Learning developer
References
"QS World University Rankings 2023." QS Quacquarelli Symonds Limited. Retrieved on July 20, 2022 from http://www.topuniversities.com.
"Learning Designer salaries." Glass Door. Retrieved on June 22, 2021 from https://www.glassdoor.co.uk.
"E-Learning Manager Salaries." Glass Door. Retrieved on June 22, 2021 from https://www.glassdoor.co.uk.